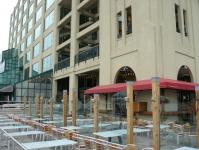 South East Suspended Walkway: Pre-Cast Concrete Topping Removal. Localized Concrete Repairs. New Waterproofing Installation. New 4" Thick Concrete Topping Installation (approximately 850 Square Feet). Expansion Joint System Installation. Architectural Coating Installation.
South East Spiral Stair: Pre cast Stair Treads Removal. New Thin Waterproofing Installation. New Concrete Pre-Cast Stair Treads Installation.
South West Stair and Landing: Concrete Steps and Concrete Topping Replacement
West Columns: Architectural Coating Installation.
Albatech has large capital investments in equipment/machinery
When unforeseen challenges arise, Albatech is able to minimize cost and time due to our wide variety of resources at hand. Albatech has over 20 years industry experience.
Successful client relationships, cost effective solutions delivered within budget and reduced ongoing maintenance cost.
Leaders in the industry with strong track record.

Parking Structural Rehabilitation
Structural Shoring
Hydro Demolition
Concrete Cutting
Forming
Structural Slab Removal/Replacement
Balcony, Building Envelope Rehabilitation
Balcony Edge Replacement
Balcony Total Slab Replacement
Railings/ Window/ Door Replacement
Railing System Retrofitting
Concrete Repair